Featuring celebs snubbing other celebs. https://t.co/x1lTQ1uW8r

— BuzzFeed (@BuzzFeed) July 30, 2022
Earlier this week, JoJo Siwa made headlines after revealing on TikTok that Candace Cameron Bure was the "rudest celeb" she's ever met. Candace then called JoJo on the phone to get a better understanding on what happened, with the two working things out. You can watch Bure's video of that here. Or not. Anywho, this inspired BuzzFeed to list other times celebs have been rude to other celebs.
When Mary J. Blige also explained how Christina had an "attitude problem":

Context: During a radio interview, Mary said, "I don't like her because she has a nasty attitude. I was trying to greet her properly and she stuck her hand out for me to kiss it. I said, 'Oh, OK. You're headed down the wrong path already.' She was just nasty."
——–
Talk about the pot calling the kettle black: When James Corden called out Pierce Brosnan for being rude:
As if there was ANY reason to love Pierce Brosnan more, the only recorded case of him being a dick was to James Corden. https://t.co/OypX3Jo8tV pic.twitter.com/Yh4Tw0iLU8

— Kris J. Cummins (@cummins_kris) October 22, 2021
Context: In a segment of "Spill Your Guts" on his show, James said that at U2 concert, Piers bumped into him and his wife super hard and didn't apologize at all. "So me and my wife moved into this area, and literally, I've never felt anything like it, this arm went on mine and just pushed me out of the way. And I looked at him and he didn't even glance at me, he just moved back into his area — just like that." Guest Khloé Kardashian said maybe he was just drunk, and James said, "Maybe he's just a bit fucking rude."
——–
When Cher said Madonna was rude on several occasions…

"There's something about her that I don't like. She's mean. I don't like that," Cher said (via Mirror). "I remember having her over a couple of times because Sean [Penn] and I were friends, and she just was so rude to everybody. It seems to me that she's got so much … she acts like a spoiled brat all the time."
——–
When Kathy Griffin said Jon Hamm was super cruel to her at a dinner party:

Context: In her book Kathy Griffin's Celebrity Run-Ins: My A-Z Index, Kathy said Jon was super mean to her at a dinner party and reportedly said her Emmy isn't a real Emmy and that she's "so old."
——–
Hailee Steinfeld said Lea Michele denied her request for an autograph: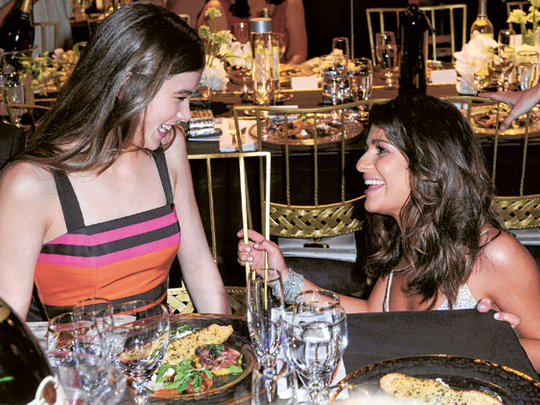 Context: Hailee told J-14, "When I was auditioning for True Grit, I was on the Paramount lot. I was wearing clothes from the 1800s that were big and uncomfortable. Glee also films on the lot and I love that show. I saw Lea Michele just walking to her trailer, and I was like, 'That's the girl from Glee. I've got to go ask for her autograph!' So I walked up to her and asked for her autograph, but she walked by and a guy came and said, 'Sorry, now's not a good time!" I was so sad! I was practically crying on the way home."
For more, visit the first source.